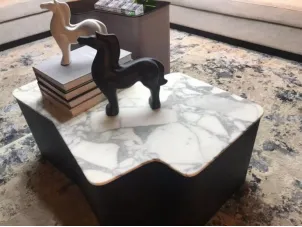 For a long time, the products of the stone industry are basically limited to the products made of stone, and the combination with the products of other industries in the outside world is less, and the cross-border integration of the stone industry and the products of other industries has not been realized. If there is, most other industries are looking for stone processing companies to buy sporadic products to combine with their products. Such as kitchen countertops, countertops for various furniture and accessories for furniture, small handicrafts.
Not long ago, the author visited a furniture and sofa store in Longgang, Shenzhen. The store mainly deals in sofas from Taiwan and Italy. Although the store is not big, the mix of furniture and stone products in it attracted the author. During the visit, I saw that some stone products are extremely simple, but they match with sofas and furniture, and the effect is still good. This gave the author a little inspiration from this visit, and expounded the view of the cross-border combination of stone, furniture and sofa.
Figure 1 Light beige sofa, stone table top + black table legs, matched with black matte ceramic products, soft lighting, creating a warm and elegant home atmosphere. Without the sofa in Figure 2, the atmosphere of the environment is completely different.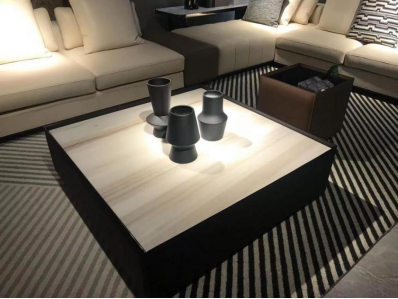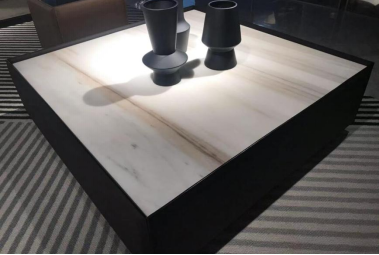 The large gray and white special-shaped table top, with black wooden table legs, and two horses with their heads held high, has an extraordinary artistic conception. The so-called environmental art is to use various decorative products and small pieces to set off the atmosphere of the environment. In addition to making large products, stone scraps can also be used to make small craft decoration products in Figure 11, which provides a way for the utilization of stone scraps. If we can make full use of the leftovers of the stone, it will provide a new product development direction for the stone processing enterprises.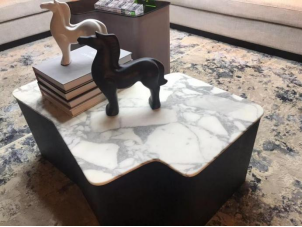 Stone companies have been looking for new breakthrough directions for stone products for many years. In the future, the development of stone products will still take the old road of singles, and the road will definitely become narrower and narrower. Perhaps the combination of stone and other materials, using their own characteristics to break through themselves, to create a product that combines two or more materials, or to cooperate with manufacturers of other materials and products is the best strategy for stone to move towards a new life journey.
"One flower alone is not spring, and a hundred flowers bloom in spring," and the same is true for stone products. Only by organically combining stone with other materials can we create more forms of stone products, at the same time make up for the limitations of the stone itself, and open up a broader space for the development and application of stone products.